March 2012 | Status: Second Draft
Some time ago, I read Paul Graham's essay, "The Word 'Hacker'". Towards the end of his essay, Graham speculates that there might be a correlation between civil liberties and a nation's wealth.
Let me put the case in terms a government official would appreciate. Civil liberties are not just an ornament, or a quaint American tradition. Civil liberties make countries rich. If you made a graph of GNP per capita vs. civil liberties, you'd notice a definite trend.
A couple of days ago, I had a sudden urge to verify this purported correlation between GDP and civil liberties. I don't know why; maybe I finally got fed up with all those dictatorial countries posting near-record growth rates year after year. Anyway, in just a few minutes, I was able to find this, this, and this (PDF), among many other studies that concluded the same: there's a certain degree of correlation between GDP and corruption, GDP and life expectancy, GDP and sexual liberation, GDP and perceived happiness, GDP and the Human Development Index, and so on and so forth.
But what about civil liberties? Graham's point wasn't about corruption or sexual liberation. The point he was trying to make in that essay was that the "hacker mindset" — questioning authorities, tinkering with everything, and never taking anything to be sacrosanct — is not only a right to be protected but also something that is necessary for economic development. What would be the best metric with which to measure civil liberties?
Then I thought of the Press Freedom Index, an annual report produced by Reporters Without Borders (Reporters Sans Frontières, RSF). RSF's mission is to advocate the free flow of information, and in particular, to help journalists who got on the wrong side of their governments because they said something the powers that be didn't like. Every year, RSF collects information from journalists around the world and compiles a ranking of over 170 countries. That's probably about as accurate a representation of the right to dissent as we can get.
Without further ado, here's a graph with the RSF Press Freedom Index on the X-axis and GDP per capita (nominal) on the Y-axis. GDP data was pulled from Wikipedia, which I believe has become a pretty reliable source for this kind of information nowadays. If the text is too small to see, please click on the image to see the full version.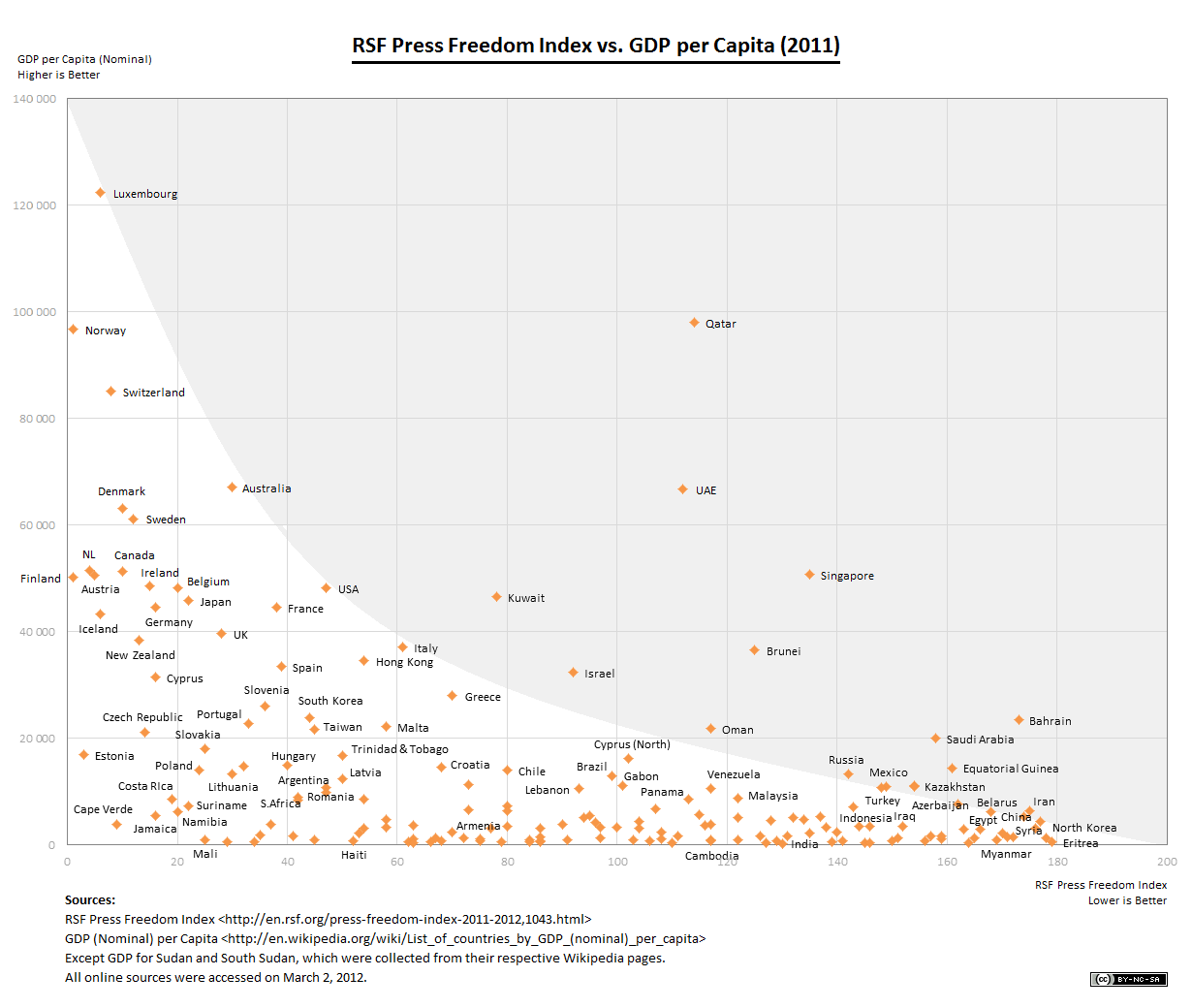 A lot of countries are crowded near the bottom of the Y-axis, reminding us how many human beings are still struggling to survive each day. I probably could have made the bottom of the graph less crowded by using a logarithmic scale on the Y-axis, but decided against it because the visual was so striking. (The linear scale is also easier for ordinary people to understand.) Those dots are Bangladesh, the slums of Mumbai, and the earthquake-stricken neighborhoods of Haiti. So many people stuffed into so little real estate, with so little food and medicine to go around.
Anyway, back to civil liberties. The graph allows us to make a few conjectures:
Having a lot of civil liberties doesn't automatically make your country rich. Even in the left side of the graph, there are a few countries with depressingly low per capita GDP. Belgium and Namibia have the same Press Freedom Index, yet the average Belgian makes 8 times as much money. (Perhaps less than 8 times, if we take PPP into consideration, but that's still a lot more.) Likewise, the Czech Republic is way ahead of Taiwan in terms of civil liberties, but that didn't help the Czechs get any richer. Obviously, a lot of factors other than civil liberties affect the wealth of a nation, and a lot of factors other than wealth affects how much civil liberties its citizens enjoy.
However, the Press Freedom Index is clearly related to the upper limit of a country's per capita GDP. If you rank 50 in the Press Freedom Index, it will be pretty difficult to make more than $50,000. If you rank 100, your upper limit is closer to $20,000. The only way to break this pattern and place yourself in the forbidden area (gray) is to have oil. That should be a wake-up call to any country that wants to get rich but doesn't have oil. (Israel and Singapore are exceptions to this rule, but each of them is pretty special in a way that few countries can claim to emulate.)
One might object that it's poverty that causes a lack of civil liberties, not the other way around. If people are too busy trying to survive, why would they care if the mayor put a reporter in jail for spilling his secrets? But the data doesn't seem to support that interpretation. As we saw in the first point above, many poor countries have excellent civil liberties according to the Press Freedom Index. Their poverty is clearly not preventing them from permitting journalists to poke around and citizens to challenge the authorities.
A more interesting objection would be that abundant civil liberties prevent these countries from getting richer. That's the kind of argument that Park Chung-Hee of South Korea and Lee Kwan Yew of Singapore, for example, would have made. In their view, civil liberties were a luxury that nations could not afford until they hit a certain threshold of economic development. But if there's any merit to this hypothesis, the graph above doesn't tell us.
A particularly interesting implication that we could explore is what will happen to countries that appear to be near the "upper limit". China, Russia, and the United States all have higher GDP per capita than any other country with similar levels of civil liberties, although at this time they do not quite break the pattern. Will their economies continue to grow, eventually breaking the pattern? Or will their growth rates slow down, confirming the correlation between GDP and civil liberties?
A complicating factor, of course, is that all three countries possess vast amounts of natural resources, due to their large territories. But there's only so much money that you can make selling raw materials. Information technology, and the "hackers" (in Graham's good meaning of the word) who build it, are pretty much the future of the world's economy. A prosperous country in the 21st century will need to foster industries that add a lot of value, not just oil, gas, and cheap labor. Meanwhile, many IT people actually seem to be getting quite concerned about doing business in the U.S.
So, in the end, this little informal study of mine appears to confirm the spirit, if not the letter, of Graham's speculation. Countries may be endowed with different levels of resources and geopolitical conditions over which they have little control, but if they want to make the most efficient use of the human capital that they do possess, they'll have to get rid of their Dictator first. As Graham says in the same essay:
I think a society in which people can do and say what they want will also tend to be one in which the most efficient solutions win, rather than those sponsored by the most influential people.
If you want to play with the data, replace the GDP figures with PPP, or make prettier graphs than what I've been able to come up with, here's a CSV file of the data I used.